Stained Glass
I used to do stained glass and framing.  I held onto a bunch of pieces but never took pictures of them, except for copyright purposes.  Someday I'll do a photo session, but these are the pictures I have at the moment.  Click on the thumbnails to go to larger versions.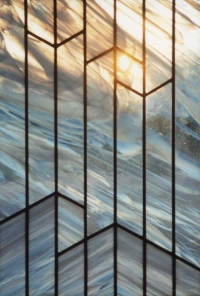 The pictures above and below are from a series I called "Mountains and Birds."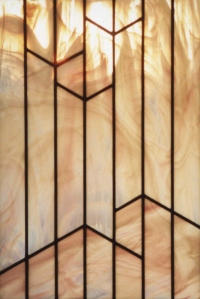 The next four pieces are from a series called "Flying Saucers."  I used channel lead to tie saucers (pieces of dinnerware) to the glass.  The first one is also framed in oak.  I was experimenting with different lengths of outer trim to balance the appearance of the panels–more wood at the less busy corners.  If you do framing I highly recommend a tool called the Lion Miter Trimmer.  Great tool.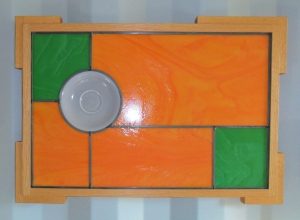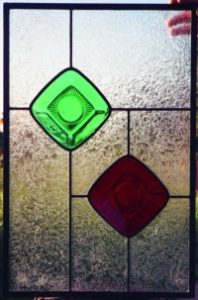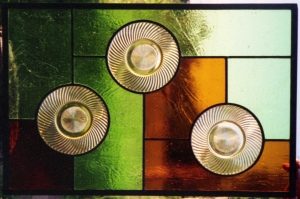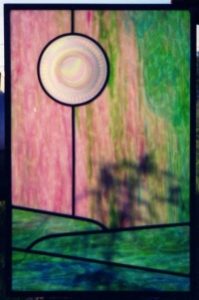 Below is a window I did with copper foil.  Fish swimming into ripple lines thrown off by other fish.  I planned to do a series of these with 6 fish, 7, 8, ad infinitum.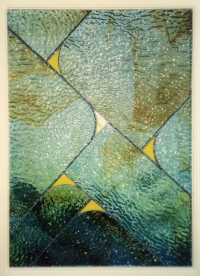 This was a little test panel I did with glass and a slice of agate.  The plan here was to get into rock sawing so I could cut my own material, but you know, life is short.  On to other things.  This is a scanned image.  The agate really glows with light coming through it.